At your HEAT Squad Energy Audit, you will learn: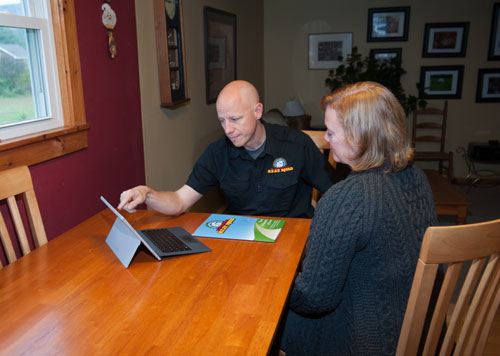 And you will receive your comprehensive same day energy report detailing the estimated energy savings, cost ranges, prioritized recommendations, and estimated incentives from Efficiency Vermont (up to $2,000 for homeowners and $5,000 for eligible businesses).
 Additional Information about your Audit:
HEAT Squad has BPI-certified Home Performance with Energy Star auditors on staff who keep your best interests at heart.

Energy audits generally last between two and four hours. It is important that the decision makers be present at the time of the energy audit.

Make sure you have a recent electric bill and a year's worth of heating bills on hand.

Energy audits cost $150 for buildings up to 3,500 square feet in Rutland, Addison, Bennington, Windham, and Windsor counties (average cost: $300-$500). For each additional 1500 square feet over 3,500 square feet, the cost increases by $150.

We CAN do apartment buildings, duplexes, condominiums, modulars, second homes, small commercial up to 10,000

square feet, and rentals. From farmhouses to new construction, we can do it all.

If you are a renter, please have your landlord call to schedule the audit.
Next Steps after your HEAT Squad Energy Audit:
We will help you identify the appropriate next steps to make your building more energy efficient, safe, comfortable and affordable. We will connect you to a certified contractor to provide an estimate.
We even help you find financing to complete the project.
How can I schedule my Home Energy Audit?